Main Propulsion
Perkins 4.236 diesel engine 85 hp; Freshwater-cooled. Rebuilt 1995 (compete); 10,000 hours (since rebuild); top end job at 7000 hours; new manifold and heat exchanger @ 8000 hrs; new fuel system @ 9000 hrs, including fuel lines, Raycor manifold, lift pump, injector pump, injector lines, and injectors. Owner performed oil changes every 100 hours, religiously. Engine runs great and doesn't burn a drop of oil.
Hurth Transmission–New 2020
Duel Raycor fuel filters in custom manifold with 12v. priming pump
1 ¼" SS shaft
Skeg hung rudder on 1 ½" SS shaft (new 2005); constructed of SS frame and plates; covered in kevlar and West System
Propeller: 20″ x 13″ LH fixed 3-blade

Double Click to Enlarge Photo
Tankage
Water: 200 gallons in two integral fiberglass tanks
Diesel Fuel: 330 gallons in three integral fiberglass tanks
Outboard Fuel: 30 gallons stored in swim step locker
Propane: 17 gallons in dedicated locker
Blackwater holding tank: approx. 25 gallons
Tenders and Motors
12' Achilles Inflatable w/wooden floor boards
9' Apex inflatable with rolled slat floor
15 hp Yamaha 2-stroke (50 hours)
8 hp Honda 4-stroke (50 hours)

8' Ocean Kayak
(2) 10.5′ SUP's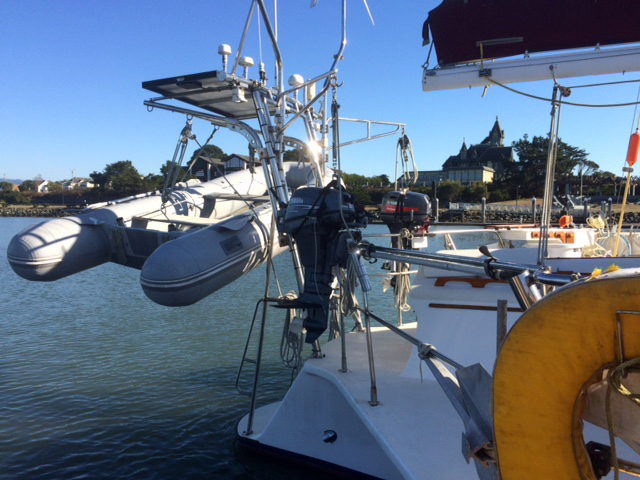 Electronics
Furuno NAV NET VX2 plotter/radar GP 32 GPS/WAAS/Depth sounder:
36 mile radar
Nav Net Chart Plotter
Depth Sounder
Furuno Dome M/N RSB-71
Instruments and Navigation
1 Danforth Constellation compass
2 Raymarine ST 60 depthsounders
2 Raymarine ST 60 knotmeters
1 Raymarine Graphic sailing instrument (wind speed, direction)
3 Raymarine ST 60 Multi displays (helm, main salon, aft cabin)
2 Raymarine i70 autopilot controllers
2 Raymarine Smartpilot processors
1 AIS receiver with transponder and anchor watch
1 Pactor Inter computer modem
1 Furuno GPS
Automatic Pilots:
(2) Raymarine P70 (one new 2021); operating via Octopus hydraulic pumps and hydraulic rams mounted to massive SS bracing.

Communications:
Icom M-604 VHF

(3) Hand held VHF's
Icom M-802 SSB

Iridium Extreme Satellite Phone (exterior antenna)
Skymate Satellite System (email, SMS, Weather) with exterior antenna
Iridium GO with exterior antenna
Starlink WiFi (recently added; Works great)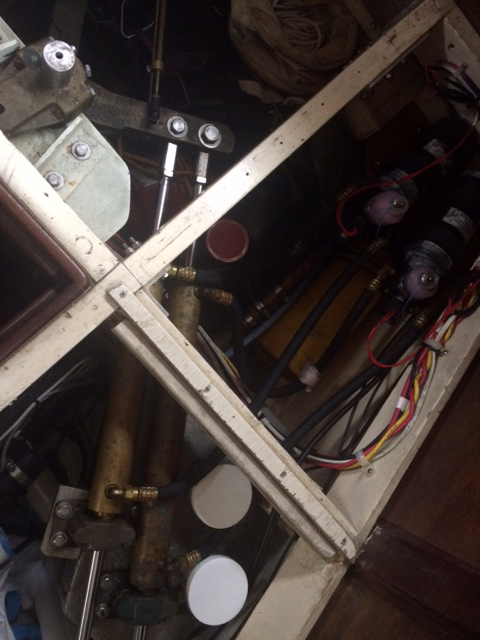 Auxiliary Electrical Power
1000 amp hour house bank: Powerstride Professional deep cycle gel batteries–2019
140 amp hour engine starting battery–2021
Ample Power V3 alternator regulator
180 amp Ample Power alternator (house bank) (carry new spare)
100 amp Ample Power alternator (engine starting battery)
Magnum Inverter/Charger 2800VA–2019
(3) fixed solar panels; (4) portable rail mount solar panels (25+ amps in full sun)
(2) AirMarine wind generators rebuilt 2022
Honda 2000 portable generator w/30 amp outlet (will power Magnum charger at 90 amps per hour)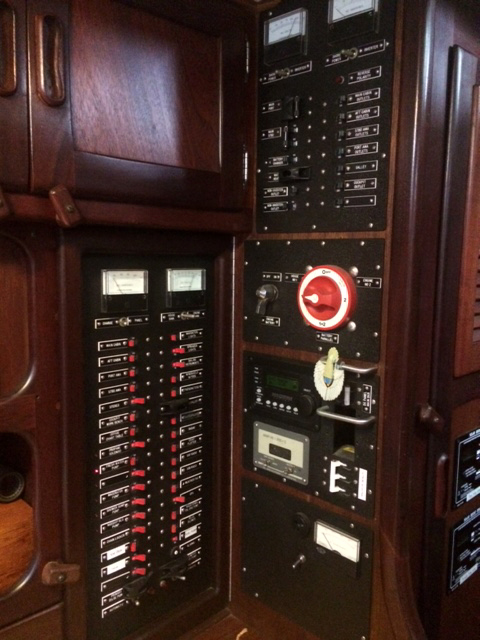 Standing Rigging
Surrender is ketch rigged with Dyform standing rigging and Norseman fittings. The main mast is deck stepped. aluminum, double-spreader rig, 55' tall, and equipped with Fast Track. The mizzen mast is deck stepped, aluminum, 35' tall, and equipped with Fast Track.
Sail Inventory
All working sails were custom built by Port Townsend Sail Company of 9 ounce material:
Main Sail: 474 sf, fully battened, two jiffy reef points
Mizzen Sail: 189 sf, fully battened, one jiffy reef point
Genoa: 447 sf on Profurl NC 42 roller furler
Asymmetrical Spinnaker with deployment sock; 1450 sf, 1.5 oz nylon
Mizzen stays'l ("Mule") with deployment sock: 125 sf, 1.5 oz nylon
Code Zero on soft roller-furler
Storm stays'l: 110 sf w/ visibility patch
(10) Lewmar and Barient winches for sail handling
Running Rigging
Ground and Storm Tackle
Lighthouse Anchor Windlass (the BEST!) with chain gypsie and rope capson. Spare motor and electronic switching box.
Operate from helm, remote hand-held unit, and deck switches
12 volt motor
Manual ratchet back up;
Allowance for 10,000:1 ratio for kedging in case of grounding;
Electric "eWincher" powered winch handle backup allows fast chain recovery
Two bow anchor rollers
Massive bails on ama bows for attachment of ground and sea anchor bridles
Chain lock deck mounted with massive SS backing plates tied into deck and forward bulkhead
Primary Anchor: 60kg Spade, 400' 3/8" HT chain
Secondary Anchor: 30kg Spade, 50' 3/8" chain, 600' 1" rode
Stern Anchor: 27 lb. Fortress, 25' 3/8" chain, 600' 5/8 rode
Fisherman anchor 110 lbs
Fortress anchor 75 pounds
Spare anchor rode: 1200'; Multiple bridles for ground anchor, para-anchor, and drogue; multiple spare halyards, sheets, dock lines, etc.
28' diameter Parachute Anchor, 600' ¾" rode, 40' bridle
Jordan Series Drogue sized to 35,000 pound vessel
Safety Equipment
Inversion escape hatch
6 Person Zodiac life raft in rail mounted cannister
(3) EPIRPS
(6) Portable dry chemical fire extinguishers
(2) Portable Halon fire extinguishers
Fixed Halon system in engine room
(2) MOB poles with life rings
Throw ring with strobe light
(3) fixed DC bilge pumps
Engine assist bilge pump
(2) manual bilge pumps
(12) Life vests
(4) Inflatable life vests with integrated harnesses, strobe lights, & AIS locators
(6) Harnesses with tethers and strobe lights
Fore and aft jack lines
Extensive hand and parachute flares
Extensive first aid kit
Hookah for underwater repair, anchor recovery, etc.
Entertainment
32" flat screen
DVD player
Extensive library: Cruising guides, repair guides, first aid manuals, novels, etc.
Navigation charts, chart books, cruising guides: Extensive collection for Eastern Pacific, some for South Pacific and Caribbean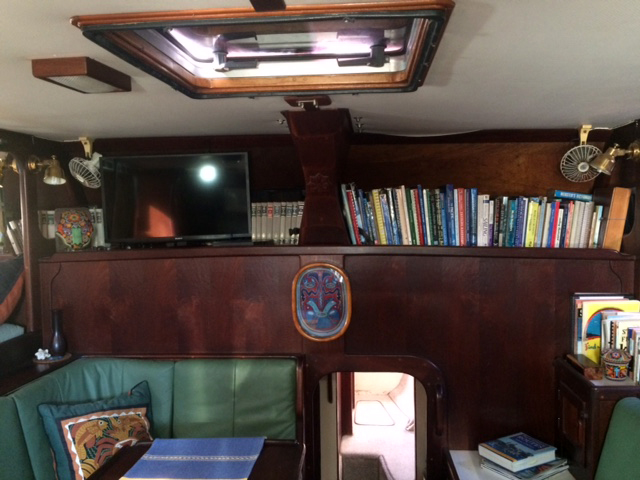 Galley Equipment
Force 10 propane stove; 3 burners, oven, and broiler (new 2019)
Frigoboat 12v. refrigerator–new controller 2000
Frigoboat 12.v freezer–new controller 2000
Microwave
10 gallon hot water tank (110v ac or engine heat exchanger)
Pressure fresh water
Fresh and salt water foot pumps
Assorted electric appliances
Large 3 burner propane BBQ (aft deck) new burners and grills 2022
Aft-deck station for dish washing and fish cleaning; fresh and salt water wash-down systems
Fishing Equipment
Surrender comes with a extensive complement of fishing equipment including: light and medium rods and reels, and every imaginable lure, hook, leader, snap/swivel, etc. for all species. The boats 24′ wide stern provides for plenty of room for trolling and fighting fish. The fish-cleaning station allows for efficient cleaning/ processing of fish for the BBQ or freezer. The boat is always trolling (jig lines when under sail—rod and reels when under power) as fish is a favorite stable of our diet. In addition to the occasional billfish (which are released), our southern route allows for yellowfin, bluefin, yellowtail, dorado/mahi mahi, grouper, halibut, etc.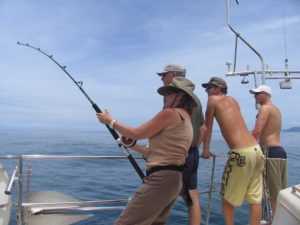 Miscellaneous Equipment

Fresh water wash down system
Salt water wash down system
Extensive fishing equipment
Full sets of all essential hand and power tools, AC and DC; extensive spare parts, fasteners, emergency repair materials, cleaning and general maintenance supplies, sail repair supplies/tools.
12.v oil change pump plumbed to engine
Spectra MPC 3000 watermaker 12v. 12 gph Complete rebuild 2021
Rainman watermaker (portable) 110v. 37gph (less then 10 hours)
Cockpit hardtop rainwater catchment (below): In medium squall/rain 200 gallons in 15 minutes.
eWincher battery powered winch handle. Use for all winches and back-up for anchor windlass. An amazing tool which lives up to its advertising.
Lighting:
(16) Alpenglow dual high/low/white/red
(10) Brass reading lights