Main Propulsion
Perkins 4.236 diesel engine 85 hp
Hurth Transmission
Duel Raycor fuel filters in custom manifold with 12v. priming pump
1 ¼" shaft
Skeg hung rudder on 1 ½" ss shaft
3 blade 22×16 prop
Tankage
Water: 200 gallons
Diesel Fuel: 300 gallons
Outboard Fuel: 30 gallons
Propane: 15 gallons
Tenders and Motors
12' Achilles Inflatable w/wooden floor boards; Davits
9' Apex inflatable with rolled slat floor
15 hp Yamaha 2-stroke
8 hp Honda 4-stroke
2 hp Yamaha 2-stroke
8' Ocean Kayak
(2) 10.5′ SUP's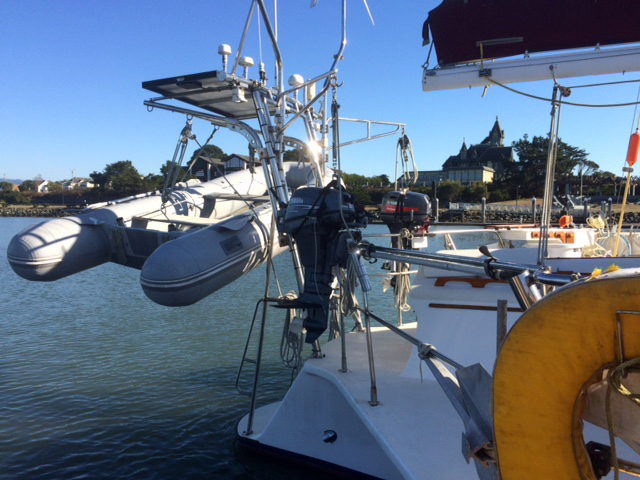 Electronics
Furuno GP 32 GPS/WAAS:
36 mile radar
Nav Net Chart Plotter
Depth Sounder
Raymarine ST 60 Instruments (depth, wind speed/direction, etc.)
Vesper AIS with Anchor Watch
Furuno GPS
Communications:
Icom M-604 VHF

(3) Hand held VHF's
Icom M-802 SSB

Iridium Extreme Satellite Phone
Skymate Satellite System (email, SMS, Weather)
Automatic Pilots: (2) Custom with Raymarine brains and massive hydraulic rams
Auxiliary Electrical Power
1000 amp hour house bank: Powerstride Professional deep cycle gel batteries
140 amp hour engine starting battery
Ample Power V3 alternator regulator
180 amp Ample Power alternator (house bank)
100 amp Ample Power alternator (engine starting battery)
3000 watt Xantrex Inverter with 150 amp battery charger
(3) fixed solar panels; (4) portable rail mount solar panels
(2) AirMarine wind generators
Honda 2000 (will power Xantrex charger at 90 amps per hour)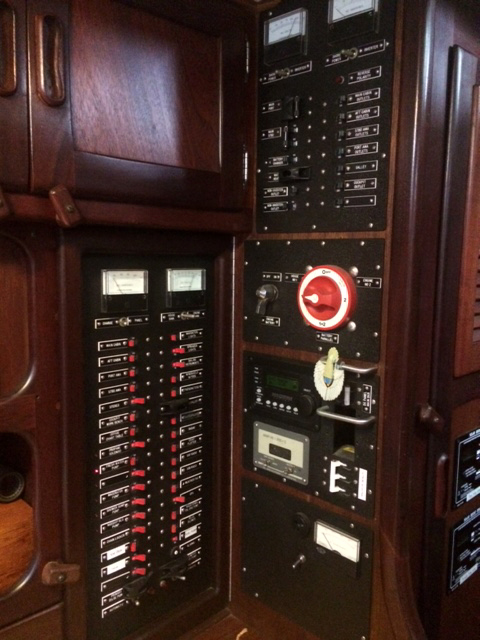 Rig and Sail Inventory
Surrender is ketch rigged with Dyform standing rigging and Norseman fittings. The main mast is aluminum, double-spreader rig, 55' tall, and equipped with Fast Track. The mizzen mast is aluminum, 35' tall, and also equipped with Fast Track.
All working sails were custom built by Port Townsend Sail Company of 9 ounce material:
Main Sail: 474 sf, fully battened, two jiffy reef points
Mizzen Sail: 189 sf, fully battened, one jiffy reef point
Genoa: 447 sf on Profurl NC 42 roller furler
Asymmetrical Spinnaker with deployment sock; 1450 sf, 1.5 oz nylon
Mizzen stays'l ("Mule") with deployment sock: 125 sf
Code Zero on soft roller-furler
Storm stays'l: 110 sf w/ visibility patch
(10) Lewmar and Barient winches for sail handling
Ground and Storm Tackle
Lighthouse Anchor Windlass with chain gypsie and rope capson
Operate from helm, remote hand-held unit, and deck switches
12 volt motor
Manual rachet back up
Two bow rollers
Massive bails on ama bows for bridle attachment
Chain lock deck mounted
Primary Anchor: 60kg Rocna, 400' 3/8" HT chain
Secondary Anchor: 30kg Spade, 50' 3/8" chain, 600' 1" rode
Stern Anchor: 27 lb. Fortress, 25' 3/8" chain, 600' 5/8 rode
Fisherman 110 lbs
Fortress 75 pounds
Spare anchor rode: 1200'
28' diameter Parachute Anchor, 600' ¾" rode, 40' bridle
Jordan Series Drogue
Safety Equipment
6 Person Zodiac life raft in rail mounted cannister
(3) EPIRPS
(6) Portable dry chemical fire extinguishers
(2) Portable Halon fire extinguishers
Fixed Halon system in engine room
(2) MOB poles with life rings
Throw ring with strobe light
(5) fixed bilge pumps
Engine assist bilge pump
(2) manual bilge pumps
(12) Life vests
(4) Inflatable life vests with integrated harnesses, strobe lights, & AIS locators
(6) Harnesses with tethers and strobe lights
Fore and aft jack lines
Extensive hand and parachute flares
Extensive first aid kit w/current antibiotics, oxygen, etc.
Entertainment
32" screen
DVD player
100's of DVD movies
Assorted board games
Extensive library: Cruising guides, repair guides, first aid manuals, novels, etc.
Galley Equipment
Force 10 propane stove; 3 burners, oven, and broiler
Frigoboat refrigerator
Frigoboat freezer
Microwave
10 gallon hot water tank (110v ac or heat exchanger)
Pressure fresh water
Fresh and salt water foot pumps
Assorted electric appliances
Large 3 burner propane BBQ (aft deck)
Aft-deck station for dish washing and fish cleaning; fresh and salt water wash-down systems
Miscellaneous Equipment
Spectra watermaker 12v. 8 gph
Rainman watermaker 110v. 37gph
Fresh water wash down system
Salt water wash down system
Extensive fishing equipment
Extensive snorkel gear
Full sets of all essential hand and power tools
CONSTRUCTION
Surrender's builder was an engineer by training, as well as a master craftsman. He understood the extreme forces imposed on a vessel at sea, and built the boat to withstand these.
The hulls and decks are constructed of triple laminated plywood (with a finished thickness of one and a half inches) of the highest quality material (no voids or knotholes), and sheaved with nine layers of 9 ounce fiberglass. Special run 24′ lengths of plywood, manufactured for the main cabin top, eliminated the need of butt joints. The vessel has experienced extreme conditions on many occasions, and survival conditions once, without any evidence of stress cracks or structural impairment. She is truly a one of a kind vessel, bullet proof, and the Queen of every anchorage.