Note: The builder had a family member who was the regional sales manager for a large West Coast lumber company. He was meticulous in choosing only the finest wood for construction. All plywood is marine grade Douglas Fir with NO voids or knot holes. Similarly, all structural members are Douglas Fir, chosen for its strength. The interior is Mahogany. Exterior trim is teak. All cabinetry is spectacular.
Surrender is a fiberglass-sheathed, plywood trimaran with a ketch rig. She was inspired by the 48′ Enchantress plans by Arthur Piver, Those plans, in consultation with a marine architect, were significantly modified. For instance, her 35,000 weight is twice that of an Enchantress, creating a strong and able sea-going craft.
The transom of the main hull was subsequently lengthened 7′ to extend her overall length to 55′. In addition to significantly improving performance (the original vertical transom caused cavitation), the retrofit allowed the addition of a 'sugar scoop' access from the water to deck, a large lazzerette locker, and facilitated the addition of an antenna arch, dingy/OB davits, and wind turbines. It also allowed the aft decks to be lengthened 15 inches.
The hull was constructed to exceptionally high standards, and the workmanship has created a bullet proof vessel. It consists of a FRP overlay, Douglas fir plywood over fir bulkheads, ring frames, and solid fir longitudinal stingers. The forward and aft bulkheads in the amas create watertight compartments. Her fore and aft box beams are massive and allow Surrender to by hauled by travel-lift with four removeable one inch eyebolts, and custom lifting straps. She can also be hauled by standard rail or hydraulic cart systems.
The decks are constructed with fiberglass overlay on a Douglas fir plywood substrate, which is supported by Douglas fir deck beams.
The main cabin top was constructed with specially run 24′ lengths of plywood to eliminate butt joints. It consists of 1/2″ plywood top and bottom, with 2″ rigid foam insulation in-between. This design has proven to be very strong, and provides for insulation in the tropics (the interior of the boat doesn't reach ambient air temperature until mid afternoon).
The decks are coated with a polyester gel-coat, thickened with cabasol, and rolled with a texture roller to create a non-skid surface. I have been 100% pleased with this system, and many cruisers who have seen it have adopted the technique for their own boats.
Surrender is a proven passage-maker
Surrender has experienced extreme conditions (gale/storm) on many occasions, and survival conditions once (Hurricane Iniki), without any evidence of stress cracks or structural impairment.
See: https://dragdevicedb.com/sea-anchors-on-trimarans/st-19-trimaran-piver
for a detailed description of the boats performance in 70 knot winds/50 foot seas. Note that the only damage was a broken window (which resulted in every window on the boat being replaced with custom aluminum sashes with safety glass lenses) and a broken bronze rudder shaft (replaced with a solid stainless steel one).
Also, note the description of the boat while riding to her sea-anchor as 'eerily comfortable' . The massive bails on the end of each of the boats ama's optimize the use of a bridle when sea or ground anchoring in extreme conditions. The boat also carries a Jordan Series Drogue when running downwind is a more appropriate storm tactic.
RIGGING:

MASTS: Painted aluminum, double spreader, deck stepped 55′ main mast; painted aluminum, deck stepped 35′ mizzen mast. Both masts equipped with 'Fast Track".

BOOMS: Painted aluminum main & mizzen
SPINNAKER POLE: Mounted to main mast (note: rarely necessary as outboard sheet tracks allow for 160 degree downwind sailing without the necessity of poling out the jib or asymmetrical spinnaker.

STANDING RIGGING: Alexander-Roberts toggled turnbuckles, Norseman mechanical terminals with Dyform stainless steel cable (replaced 2006);
SAIL HANDLING HARDWARE AND EQUIPMENT:

Winches:
2 Barient #9C reefing, 1 Barient #10SS mizzen halyard, 2 Barient #10SS halyard, 1 Harken #16AST reefing, 1 Barient 16SS mizzen sheet, 2 Barient #32CST primary
deck, 2 Lewmar 48CST deck winches
Sheltered Sail Control:
Jib sheets/roller furling, main sheet, main traveler, and vang sheets controlled from either side of cockpit. Halyards and jiffy reefing controlled at mast. Mainsheet traveler on hardtop and controlled from either side of cockpit.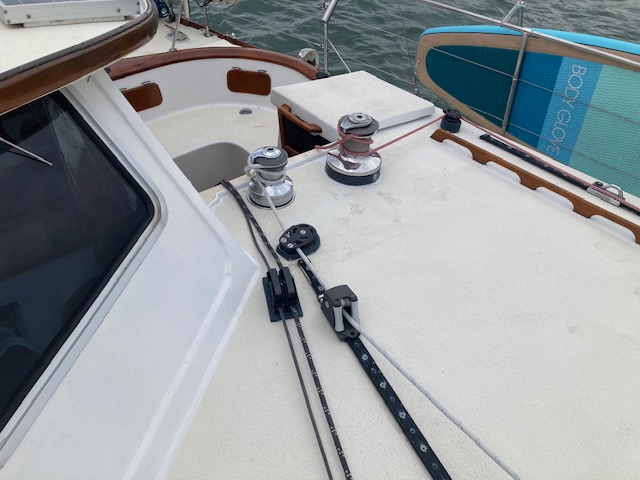 SAIL INVENTORY:
All working sails were custom built by Port Townsend Sail Company of 9 ounce material and are in excellent condition:
Main Sail: 474 sf, fully battened, two jiffy reef points
Mizzen Sail: 189 sf, fully battened, one jiffy reef point
Genoa: 447 sf on Profurl NC 42 roller furler
Asymmetrical Spinnaker with deployment sock; 1450 sf, 1.5 oz nylon
Mizzen stays'l ("Mule") with deployment sock: 125 sf. 1.5 oz nylon
Code Zero on soft roller-furler
Storm stays'l: 110 sf w/ visibility patch

'Stak Pack" sail covers with integrated Lazy Jacks by Doyle Sails
SAIL TRACKS:
Surrender's generous beam (24′) allows for three sail tracks on each side. This allows for optimization of sail plan. Inner track for jib allows close hauled sailing at 60 degrees. Off the wind the jib or asymmetrical sheet can be lead to the outboard track for downwind sailing without the necessity of using a pole, up to 150 degrees. Code Zero also uses outside track. Short center track is used to sheet a storm jib from the inner forestay.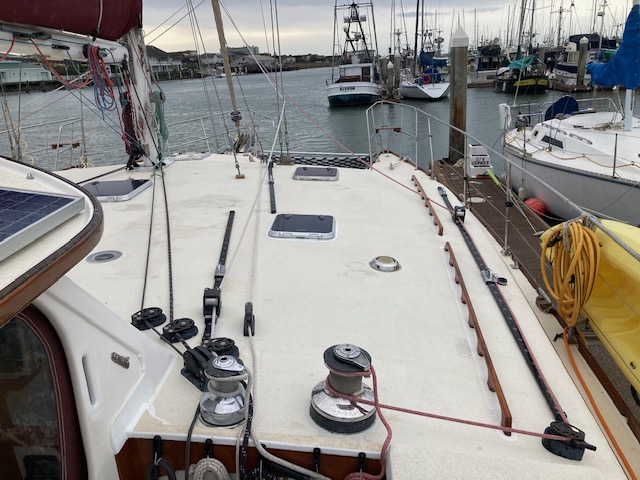 HANDRAILS AND LIFELINES
The boat has 33″ high solid SS handrails, with two lower life lines. Combined with full fore and aft side decks between the cockpit and foredeck, they facilitate going forward in heavy weather. However, her stable platform allows for safe access forward on the cabin top in all but the heaviest of weather.
COCKPIT LAYOUT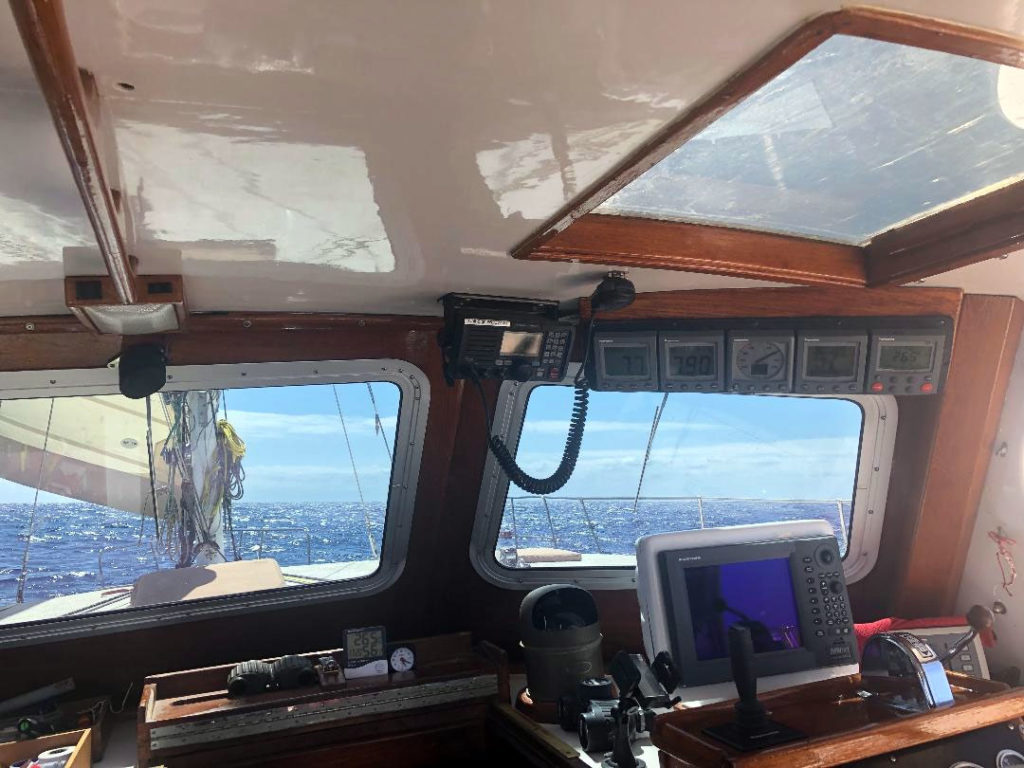 Surrender on The Hard